My philosophy when it comes to capturing families is simple, I want the real moments. In a beautiful location, golden light and a whole lot of laughs and love with your people, simply embracing the time with each other.
My ultimate photos of my family and I are the ones that have captured the natural, raw moments. The ones that people may often skim over and not think of it as "perfect". The moments when your little one isn't looking at the camera but at your husband, your other child is giving you a sloppy kiss while messing up your hair. This is the real, this is the raw, this is what it's all about. I love capturing the love in your eyes when you hold your little ones, the adoration in your husbands eyes while you embrace each other and the life long relationships you have with your siblings. These are all moments you may never have again and documenting it for generations is priceless.
The best sessions happen when you come without any expectations, other than to have fun and love on each other. Kids will be kids and this is everything we want to embrace, forced smiles are just for school photos. We'll let them play, let them be silly when they need to be and be prepared, because I'll be asking you to be silly with them and then snuggle them up and shower them with love.

What to expect
Expect a little chaos, a lot of love and lots of direction from myself when needed.
You don't need to think or worry about poses ahead of time, I will guide all of you throughout your entire session.
Once you've chosen the right package for you and your family, I'll find us a beautiful location in the lower mainland that suits the style and feel for you. I have some amazing locations that have many great features for a large variety of photos to really round out your session. Once we've chosen our space we will determine when 'golden hour' is on that date and get you scheduled in.
The amount of photos you'll receive will depend on the package selected however: all images will be retouched high resolution digital images, all provided to you in an online gallery.
I know how excited everyone gets after a session and they cant wait to see some sneak peeks. I will always get you some within a few days of your session and the full gallery ideally delivered within 3 weeks.

What to wear
Keep is simple and casual.
Working within the following suggestions will really help me deliver the style of photos that brought you to my work.
I always like to suggest something that's already in your closet opposed to buying something new. You're already comfortable in those items and it will reflect in your photos. Unrestricting fabrics that allow you all to move freely can make all the difference. No big logos and don't forget to consider shoes. If I let my husband, he'd wear his bright blue runners everywhere.
Colours…
I recommend sticking with neutral or earth tones. Think: greys, whites (though use white sparingly, it can be quite vibrant in photos), blacks, browns, burgundy, mustard, dark navy blue, dark green etc. Stay away from anything florescent or overly bright that might clash with the background or take the focus away from you and your loved ones & the emotion in the images.
Patterns…
Avoid big, loud, chunky, crazy patterns. The smaller or more subtle, the better! If the pattern is too prominent, it will distract from your faces. Also, be sure to iron your clothes before so there's no huge wrinkles distracting from your faces either!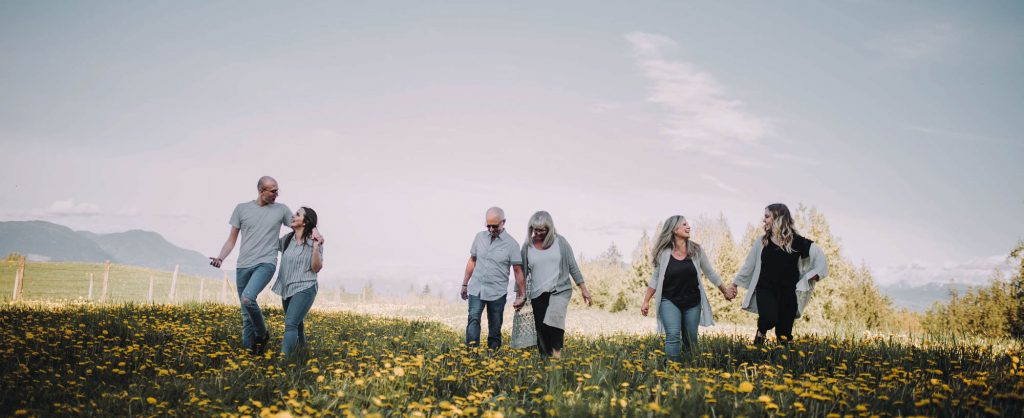 This wont be a prim and proper session, we'll let the kids run free and not worry about the sand that's piling up in their shoes or the grass stain that's magically appeared their knees. It's all about being in the moment with them. I have little ones, so I know how intense prepping for a photo session can be so my biggest advice is this… plan the outfits ahead of time, come with an open mind and a bribery method to get everyone through the session if need be and be ready to have some fun.
---
---